:: RESEARCH ::
:: general interests :: publications ::
Miniaturization discharges
Development of miniaturized discharges in analytical science brings the "lab-on-a chip" concept in a strong favourable light. The plasmas have to be as small as possible, but their characteristics should be comparable with laboratory big devices. Our group at ISAS Dortmund works in integrating a dielectric barrier discharge (DBD) and a microstructured electrode discharge (MSE) in sensitive detection schemes in order to be able to analyze gaseous, liquid or solid samples. The pressure range covered by these discharges is from a few mbar up to 1 bar. Both designs allow the coupling with a gas chromatograph or laser ablation for sampling. Emission or absorption spectrometry as well as quadrupole mass spectrometry are implemented as element selective detection techniques. Halogenated molecules selective detection gives results comparable with those reported using other plasma sources.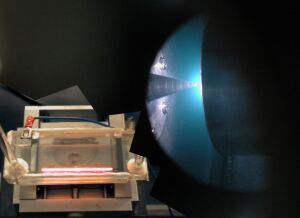 DBD lower left and MSE upper right